Omnidesk - PRO 2020
Regular price

$850.00

PREORDER PROMO

Will be in stock after
---

Vendor: Rare
Type: Desks
Sku: null
Available: Sold Out
---
Right now
gamers are looking at this product!
---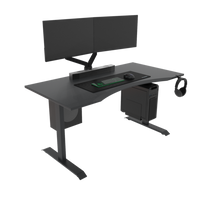 Omnidesk - PRO 2020
$850.00
OMNIDESK PRO 2020 - ELECTRIC STANDING DESK.

Omnidesk Pro is the flagship premium electric standing desk with the widest variety of customizations.

AN ICON REINVENTED
In 2018 we pioneered the region's most influential standing desk experience. We started a revolution that changed the industry. The Omnidesk Pro became the icon of workspaces and ergonomics. Two years on, we've taken all of your feedback onboard and diligently engineered/designed it into the brand new Omnidesk Pro 2020 . The upgraded 2020 Model is the product of eighteen months of design collaboration with our supply partners and significant investment into research & development. This is Omnidesks very own unique product line- the likes of which you have never seen on the market.

SIGNATURE TABLE TOPS
Our signature table tops are made from the highest grade MDF wood and cured with our specially formulated powder coated surface. What separates us from the rest of the pack in terms for furnishing is this micro-textured powder coat surface made for mouse tracking, enabling the desk to function as a giant mouse-pad.

We have also engineered the perfect ergonomic curve for the best standing desk experience. With a perfectly angled curve, standing and leaning with forearms on the edge of the desk no longer causes pinched nerves in the long run.

Best of all, the entire production process is stringently monitored and tested to ensure that the product is eco-friendly.

ECO BAMBOO SERIES

Aesthetically impressive and environmentally friendly. Match parquet and vinyl flooring in homes and offices.
Safe. Bamboo is an organic product, entirely clean and no residues of chemicals. Green choice.
Sustainable. Bamboo is more scratch-resistant than hardwoods, keeping its colour and brightness for many years.
No harsh agents and chemicals are used in the finishing our the Eco Bamboo tops, protecting not only your desk but your indoor air quality.
Choose Omnidesk™ Eco Bamboo table tops and support a sustainable existence that means taking care of your body and the environment as well.

OMNIDESK™ PRO 2020 FEATURES
OMNIDESK™ PRO's 2020 console features four smart memory programmable pre-sets that allows you to save your favourite profiles. Switch to your ideal sitting, standing or even bean bag table positions at a touch of a button. The refreshed and upgraded version now comes with higher sensitivity anti-collision mechanism and also a child-lock feature!

FULLY HEIGHT ADJUSTABLE
Find your perfect sitting or standing position with the electronic height adjustable OMNIDESK™. Electric motors allow you to raise or lower the desk to your exact preferences, and even create memory profiles for different users.

INCREASED STABILITY
Best in class stability for a 2-feet standing desk. Aesthetics are at the forefront with precision engineered gap reduction between columns helping lower the lateral movement of the desk during usage by 50%!

INCREASED MOVEMENT SPEED
40% Increase in movement speed. Breaking industry standards, we adjusted our mechanism to support quicker adjustments. Allowing you to get to your ideal position quicker.

CONTROLLER DIMMING
Dims after 10 seconds of remaining idle. Saves electricity and removes a painful distraction in dark bedrooms. A popular request - We listened!

DESK FEET REDESIGN
The redesign of the desk feet provides both aesthetics and additional stability by adjusting the centre of gravity of the desk. Creating a better balanced frame and overall stability.

ANTI-COLLISION 2.0
With the constant R&D, we created an ultra sensitive anti-collision mechanism with a complete rework. Safer for you, your kids and your under-desk items. Sensitivity can be adjusted and suit desks of all sizes.

IMPROVED CABLE MANAGEMENT TRAY
We had a dedicated tray for 72" version previously. But now, we fabricated a new tray that fits all sizes, 1 tray for ALL sizes! Keep desk cables and control box away from prying eyes.

IMPROVED AESTHETICS
Subtle yet powerful refinements. A slicker looking feet to fit anywhere possible. Our very own moulded controller, featuring our new Omnidesk logo as the "Memory" button. Powder coating on desk frames has been reformulated to increase durability. No more unnecessary visible holes on the columns too!

FUTURE PROOF
Extendable frame fits multiple sizes table tops from 48" to 74". This provides a future proof ecosystem for future upgrades for larger and new table tops.

OMNIDESK™ ECOSYSTEM - FULLY CUSTOMISABLE
The OMNIDESK™ PRO 2020 comes packed with accessories and options, including monitor arms, cable management tools, PC holders and even speaker mount capabilities! Upgrade your OMNIDESK™ PRO as our team creates more unique tools to personalise your desk.

Omnidesk Ecosystem - Customisation and Accessories
Omnidesk has a full range of high quality addons and accessories, forming an entire ecosystem. These accessories are specially designed and manufactured or curated from the best sources, making integration with your Omnidesk as seamless as possible and also aesthetically pleasing.

Here are some of our popular add-on accessories:
• Cable management bar
• Motorised Power Riser
• Single or Dual Monitor Arms
• PC Mount & Roller
• Mats (Mouse Mat & Anti fatigue mat)
• Monitor Risers

OMNIDESK™ SPECIFICATION
Every Omnidesk Includes the Following:

‣ Table top designed to last - OmniAnchors Desktop Inserts
OmniAnchors Desktop Inserts are design and place with precision engineering onto our desktops, WildWood, Bamboo and also our signature powder coated tops to ensure maximum durability. These machined threads allow accurate placement of your table tops to the frame and also allows you to assemble and disassemble your Omnidesk as often as you like. This will allow your table top to last you a lifetime.

‣ Omnidesk™ signature Extra Large Cable Pass-Through Grommet
Extra Large Cable Pass-Through Grommet is a seamless cable management system found only on Omnidesks. Aesthetically pleasing itself when not in use but allowing multiple cables to pass through easily when required. Not only that, universally size monitor arms can fit the grommet together with cables.

Paired with the Omnidesk™ Cable Management Bar, this completes the full setup required for a neat under-desk cable management system. Look-ma-no-messy-cables that everyone desires of a premium workspace.

*The kind of table tops to avoid are the laminated ones as they peel and warp easily as many companies use cheap MFC or particle boards, that's what they do to bring down their cost.

‣ Omnidesk™ Signature Ergonomic Curve
Experience utmost comfort in long hours of usage with our OMNIDESK™ PRO's ergonomic curve, providing a natural and comfortable location to rest your arms during usage.

UP TO 10 YEARS WARRANTY COVERAGE
Worry-free with an industry leading warranty period. Our desks are made with state of the art manufacturing processes and rigorous testing is done to ensure quality and durability. What's important, with our reputation as the #1 standing desk brand in Singapore and Australia, you can be sure that we will be there for you when you seek warranty help. Of course, you'll also get to experience the award-winning customer experience that we are renowned for.

All Electric Desks comes with a standard 7-year warranty as of 23/03/2021. Want further coverage? We give you the option to extend the warranty for up to 10-years.

*Receive a further 3 year warranty on top of the extended 7 years by leaving a review or posting an image of your new space on social media. Top-up for a longer and more comprehensive warranty and cover up to 10 years in total.

OMNIDESK™ PRO 2020 PRODUCT SPECIFICATIONS

PRODUCT SPECS 2020 Version

MAX HEIGHT 125 CM
MIN HEIGHT 60 CM
TABLE WIDTH 122, 152, 183 CM (48", 60", 72")
TABLE DEPTH 76 CM (30")
SPEED 43 MM/S
LOAD CAPACITY Recommended Load: 100 KG | Max Load: 140 KG
WEIGHT (FRAME + MOTOR) 35.5 KG
FRAME COLOUR BLACK, WHITE

What's in the box:

LEG COLUMN x 2
FEET x 2
FRAME END(L) & FRAME END(R) x 2
CENTER RAIL x 2
SIDE BRACKET x 2
CONTROL BOX x 1
EXTENSION CORD (Control box to Leg) x 1
POWER CABLE(1.3m) x 1
ADJUSTABLE CENTRE CABLE TRAY x 1